Winners
---
Honorable Mentions
---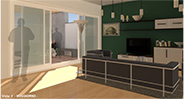 Salvatore Natale Chiarenza, Italy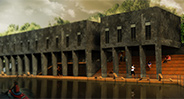 Sloan Springer, United States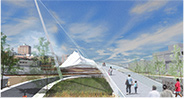 Jim Rounsevell, United States
Your World, Reimagined | A Global Design Competition
---
"Your World, Reimagined" is a global design competition that asks professional and student designers to tackle an old, dilapidated, or run-down locale and redesign it for a new, improved use. Entries can range in focus from adaptive reuse to landscape reclamation or object redesign.
Cash and software awards will be presented to overall and category winners. Plus, the overall winner will be featured in a prominent, online design magazine.
So if you're ready to reimagine your world, read on!
Requirements:
All submissions must be based on the "Your World, Reimagined" theme.
A submission consists of up to two digital presentation boards or one digital presentation board and a movie file that demonstrates their design's conceptual imagery. Entries can range from a conceptual design to a completed project with full design development.
Digital presentation boards must be no larger than ISO A0.
All submissions must use Vectorworks or CINEMA 4D software. For a free, 30-day trial of Vectorworks software, click here. For a free, 42-day trial of CINEMA 4D, click here.
Applicants can only submit one entry.
All entries must be submitted by 11:59 p.m. EST on August 16, 2013.
Prizes
---
Judges will select an overall winner, as well as winners in each of the following prize categories:
Best Computer Rendering
Best Animation
Best 3D Modeling
Best 2D Plan
The winner of the Best Overall Design Concept will win a $2,000 Visa gift card. The winner will also have his/her design concept featured in an article run by a prominent, online, design magazine. In addition, the winner will be featured in Planet Vectorworks, and on the Nemetschek Vectorworks and MAXON social media channels, including Facebook, Twitter, and YouTube.
Best Overall Design Concept:
$2,000 Visa gift card
An article in a prominent, global design magazine, highlighting the winner and his/her design
DOSCH DESIGN Collection: HDRI Complete
Best Computer Rendering:
$1,000 Visa gift card
Arroway Textures All-In-One Bundle + Tiles-1
DOSCH Textures: Arch Views America
DOSCH Textures: Arch Views Asia
DOSCH Textures: Arch Views Nature
Best Animation:
$1,000 Visa gift card
DOSCH DESIGN Prize Bundle
Best 2D Plan:
$1,000 Visa giftcard
Arroway Textures Wood-Veneers CE
Arroway Textures Construction Bundle + Tiles-1
Best 3D Modeling:
$1,000 Visa gift card
Arroway Textures All-In-One Bundle + Tiles-1
Featured Project
---
The VERVOORDT r.e. Kanaal Project
The Kanaal project in Wijnegem, Belgium involved transforming the derelict industrial site of a large, old maltery and distillery with silos and warehouses into a mixed-use housing project. The overall target was to create a fully sustainable and functionally balanced new fragment of urban fabric.
BOGDAN & VAN BROECK ARCHITECTS, along with partners Stéphane Beel, Coussée & Goris, and Michel Desvigne, designed 11,000 square meters of underground parking and storage rooms, 8,000 square meters of residential units, the new workshops of Axel Vervoordt, a Belgian leader in art, antiques and interior design, as well as 1,000 square meters of refurbished industrial buildings (showrooms of Axel Vervoordt, a museum, an art foundation, a spa, and a brasserie).
The residential part is structured as a continuous sequence of outdoor rooms—"rooms with a view"—that merge into an articulated landscape that connects the site to the adjacent Albert Canal.
The residential units are housed in four cubical volumes ("the cubes"). Inspired by the qualities of the individual house, all units have two floors and two or three façades. The façades in all of the zones that have particular qualities or disadvantages have been identified: sunshine, views of greenery, privacy conflicts, views of the canal, acoustic quality, etc. This matrix yields a complex stack of residential units.
All dwellings are fully flexible in order to allow different layouts of plans and interior designs. In addition, each unit features a large, double-high indoor loggia with a big folding window frame, which provides a strong relationship between the dwelling and the exterior.
The entire project was designed and tested in 3D using Vectorworks software, which proved itself as the only way to verify the feasibility of such a complex, spatial puzzle. It is thanks to the success of this stacked housing morphology that the project has managed to combine high density and quality of life with a unique identity of each property, thus achieving the firm's true ecological goals.
To learn more about the project, visit http://www.kanaal.be/en.
And, to hear more from the designers who helped transform the site, select the following links:
Get Trial
---
To get your free, 30-day trial version of Vectorworks with Renderworks software, please click here.
To download a free, 42-day version of CINEMA 4D, click here.
Meet the Judges
---

Katherine Bambrick Ambroziak,
Assistant Professor, College of Architecture and Design, University of Tennessee, Knoxville
Katherine Bambrick Ambroziak received her master's of architecture degree from Princeton University and her bachelor's of science degree in architecture from the University of Virginia. Her research addresses holistic systems of environmental perception and geographic experience as influences on corporeal activity and memory. She focuses on contemporary and cultural reading of space, spatial theory related to sensory response and the body precept, and specific themes associated with ritual theory, symbolic space, and interactive memorial design. A licensed architect in the State of Tennessee, she is active in community outreach as both an academic and civic pursuit. Since 2009, she has served as the primary designer and coordinator of the Odd Fellows Cemetery and Potters Field Rehabilitation Project, a conservation and rehabilitation outreach initiative focusing on the stabilization and memorialization of two historic cemeteries in East Knoxville.
---

Nicholas Dunand,
Designer and Sculptor
Nicholas Dunand is a freelance designer and sculptor with more than 35 years of experience in the art and design fields. He has designed and/or produced custom furniture for clients, children's playgrounds for schools and public places, sculptural elements for theatrical and display projects, and artwork for public places. In addition, Nicholas has taught design, material technology, and CAD to design students in various disciplines. Currently, his work centers mostly around sculptural and technology education projects. In his spare time, Nicholas pursues his interest in photography, using current digital equipment and his great-grandfather's glass plate negative mahogany field camera.
---

Shinya Fujimura,
Digital Artist 3D-KOBO
After working for a CAD software company, Shinya Fujimura started working independently as a digital artist for architectural design. Besides drawing perspectives and CG artwork, he also provides CAD training.
---

Taku Hashimoto,
Creative Department General Manager, CAD CENTER CORPORATION
Taku Hashimoto works in computer graphics production at CAD CENTER, an innovative visualization company that originated in 1987, and delivers the "best visualization with best satisfaction." Hashimoto has also directed and produced many projects for architectural visualization while working for CAD CENTER, which uses leading-edge 3D visualization technologies to provide a wide range of innovative products and services.
---

Oliver Higgins,
Architect & Visualizer Franklin Ellis Architects
Oliver Higgins became a registered architect in 2009, and has since worked at Franklin Ellis Architects in Nottingham, UK. Oliver has been featured on MAXON's architectural case study page, and he was also the CINEMA 4D category winner of the 2012 Inspired Visions Global Rendering Competition. He is a keen believer in the potential for incorporating 3D visualization at the early stages of a project to enhance the design process and ultimately produce more successful architecture.
---

François Lévy,
François Lévy Architect
François Lévy is a registered Texas architect and author of the book BIM in Small-Scale Sustainable Design. He has been in private architectural practice since 1993, and he has had his own design firm since 1997. In addition, he has taught courses in digital technology and environmental design at The University of Texas at Austin, The University of Texas at San Antonio, and St. Edward's University. François' architectural projects have attracted regional and national press, including publication in Dwell magazine and being featured on HGTV. In addition to conducting software seminars to architects for more than a decade, François has presented and lectured widely on CAD and BIM. He is also a member of the Space Architecture Technical Committee of the American Institute of Aeronautics and Astronautics.
---

Tyler Littman,
Designer, Sholight, LLC
Tyler Littman is the owner and principal designer of Sholight, LLC, an entertainment design firm based in Philadelphia, PA. Sholight specializes in lighting and production design for concert touring, television, special events, and installations. Tyler has designed for a variety of artist and clients including the Jonas Brothers, Lou Reed, Art Garfunkel, Barry Manilow, iHeart Radio, the NFL, and many more.
---

Suzanne McGee,
LEED Green Associate, Intrinsik Architecture
Suzanne McGee is an intern architect/designer/artist from Bozeman, Montana. She received her bachelor's degree in fine arts from Montana State University-Bozeman and holds a master's degree in architecture from the University of Tennessee-Knoxville. In addition to designing and drawing for Intrinsik Architecture, Suzanne has been investigating product design and manufacturing. Her work has been awarded the East Tennessee USGBC Green Light Award, the Tennessee AIA People's Choice Award, and the Tennessee AIA Design Award in 2012.
---

Günter Nikodim,
3D Animation | Compositing | VFX, cybertime
Günter Nikodim grew up in Lower Austria, and he studied media technology at the University of Applied Sciences in St. Pölten. Since 2007, he has worked as a 3D and visual effects artist in Vienna, Austria. Although he has specialized in character animation, he is a computer graphics generalist, contributing any kind of 3D animation and motion graphics, as well as compositing for several TV and movie projects. He has worked mostly on Austrian projects, including the movie "Falco – Verdammt, wir leben noch" and the film adaption of the opera "La Bohème," as well as television shows like "Tatort," "Schnell ermittelt," and a variety of TV spots for clients like Kelly's, UPC, and M&M's. In 2012, he was one of the main participants who worked on the short film "Hooked," where his work covered project management, supervision, modeling, rigging, and character animation and compositing.
---

Alejandro Nogueira,
Architectural Visualizer, DECC 3D Art
Alejandro Nogueira founded DECC 3D Art in 1994, with the purpose of satisfying clients' needs for architectural visual communication. Since then, he has completed more than 1,500 medium- and large-scale projects all over the world with the best Mexican and U.S. firms. He has addressed audiences at Mexico's top universities and has been CINEMA 4D's demo artist in the Cut and Paste competition. DECC´s work has been featured in entire issues of some of the most prestigious magazines in Mexico. For fun, Alejandro plays the drums in a rock band, and he recently recorded an independent CD.
---

Peter Petz,
Architect, German-Architects.com
Born in the south of Germany, Peter Petz studied geography and empirical cultural sciences before graduating with a degree in architecture from the Institute for Presentation and Design at the University of Stuttgart in 1993. For 15 years, he worked as a freelance architect, focusing on urbanism and competitions. Since 2003, he has been working from Stuttgart as the project manager of German-Architects.com.
---

Marc Potocnik,
3D-Designer, renderbaron
Marc Potocnik is owner and founder of animation studio renderbaron in Düsseldorf, Germany. The company produces high-quality, 3D animations, visual effect,s and television commercials for customers such as BMW, Audi, ZDF, RTL, Nokia, Wilkinson Sword, RWE, and Siemens. The small studio offers the high-end quality and reliability of its large competitors. It has a production-proven pipeline and up to four employees on site. Marc studied communications design at the University of Applied Science in Düsseldorf and has more than 16 years of industry experience. He shares his knowledge as a MAXON certified instructor for CINEMA 4D training courses, focused on lighting and rendering. In his spare time, Marc works on his non-commercial movie project "Unter freiem Himmel." He wrote, directed, and produced the movie. He also creates all visual effects, as well as performs the editing and compositing.
---

Erik Recke,
Architectural Visualizer, Datenland
Erik Recke began studying architecture in 1987 in Hamburg, Germany. While a student, he spent two years working for American artist Dan Graham, constructing and realizing his pavilions in Hamburg, Ulm, and Stuttgart, Germany; Vienna, Austria; and Nantes, France. In 1993, he received his architecture degree from the University of Fine Arts of Hamburg. For the next year, he worked as a freelance architect for the architectural office of Bothe, Richter, Teherani in Hamburg, Germany. In 1995, he founded Datenland, a firm for architectural visualizations. He also taught CAD and visualization at various architectural offices. From 1998 to 2000, he taught CAD and 3D visualization at Braunschweig University of Technology's Institute for Design and Technology. After that, he served as a CAD and simulation guest professor at Muthesius University Kiel. He and his wife have a son. Erik also enjoys his motorbike and guitar.
---

Tom Boogaerts,
Project Architect and Public Relations, BOGDAN & VAN BROECK ARCHITECTS
Tom Boogaerts joined the Brussels-based architecture and consultancy office of BOGDAN & VAN BROECK ARCHITECTS in 2010. His current projects include the PPP-project Den Travoo in Hoeilaart, and the renovation and expansion of the Unesco School Koekelberg, one of the largest schools in Brussels from the 1960s. His professional background includes architecture, urbanism, landscaping, and research. He has worked in collaboration with Antwerp-based UR architects and with several friends over the past years, preceded by a diverse educational trajectory of science, math, and the arts. Tom recently founded no925architecture in order to polarize people by the simple denial of indifference and preconceptions. Married with two children, Tom enjoys his family life and combines it with cultural activities such as attending music concerts and festivals, art exhibitions, and performances.
---

Maxime Czvek,
Project Architect, BOGDAN & VAN BROECK ARCHITECTS
Maxime Czvek joined the Brussels-based architecture and consultancy office of BOGDAN & VAN BROECK ARCHITECTS in 2009. His current projects include the VUB U-residence, the Bakala Academy for the KU Leuven, and the Kanaal project for Axel Vervoordt, working with Stéphane Beel architects and Coussée & Goris architecten. He graduated cum laude in 2008 from the University of Ghent where he was mentored by David Van Severen en Kersten Geers (office kgdvs) and founded the multidisciplinary Atelier ame together with Evy Waegeneire in 2011. His practice withdraws architecture from its self-sufficient ideals and places it as one of the actors in an ever-changing environment. Shifting his action field from Ghent to Europe's capital has enabled him to develop his interest in theory, practice, and modern-day society. Leading the architectural blog I/Object since 2011, he believes sharing knowledge and ideas should open up the architectural landscape.
---

Thomas Rigby,
Project Architect, BOGDAN & VAN BROECK ARCHITECTS
Thomas Rigby joined BOGDAN & VAN BROECK ARCHITECTS, a Brussels-based architecture and consultancy office, in 2009. His current projects in Brussels include a passive social housing complex and the conversion of a former flourmill situated on the canal into an interpretation center and business incubator. Thomas' professional and educational background has given him the opportunity to live in Berlin and London, and work for Heide Von Beckerath Alberts Architekten and Wilkinson Eyre Architects. He also benefitted from experiencing the rich and contrasted urban environments of these locations. Currently living in Brussels, Thomas enjoys the cultural richness and proximity of the busy human-scale capital.
Official Rules
---
The competition will run from 12:00 a.m. EST on April 23, 2013 to 11:59 p.m. EST on August 16, 2013.
Submissions received after 11:59 p.m. EST on August 16, 2013 will not be considered for judging.
Nemetschek Vectorworks reserves the right to remove entries from the competition webpage that do not meet the submission requirements.
An entry consists of up to two digital presentation boards or one digital presentation board and a movie file. Digital presentation boards must be no larger than ISO A0.
Entries must be submitted in a PDF format, accompanied by your .VWX or .C4D file(s).
Nemetschek Vectorworks and its subsidiaries have permission to use any files submitted to the competition.
All submissions must use Vectorworks or CINEMA 4D software in some way.
Terms and Conditions
The Global Design Competition is organized by Nemetschek Vectorworks, Inc., 7150 Riverwood Drive, Columbia, MD 21046 USA and MAXON Computer GmbH, Max-Planck-Str. 20, D-61381 Friedrichsdorf, Germany along with their subsidiaries and independent distributor/reseller partners (hereinafter the "Organizers").
These terms and conditions, together with the Competition Announcements, Entry Forms, and Entry Website, are the "Rules."
By entering the Competition, entrants agree to be bound by these Rules.
In the event of discrepancy between these terms and conditions and the Competition Announcements, the Competition Announcements shall prevail.
The Organizers reserve the right to cancel or amend the Competition and the Rules at any time without prior notice.
In the event of any dispute regarding the Rules, conduct, results, and all other matters relating to the competition, the decision of the Organizers and Judges shall be final and no correspondence or discussion shall be entered into.
No purchase is necessary to enter the Competition. (30- and 42-day trial versions of the software are available.)
This Competition is not sponsored, endorsed, or administered by Skild. By entering, you understand that you are providing your information to the Organizers and not to Skild.
By entering this Competition, the Entrant agrees that their contact information and images provided as part of the Entry Forms and entry process may be shared by the Organizers, their subsidiaries and independent distributor/reseller partners, as well as the Judges for the purpose of administering the Competition and as also described below.
Eligibility and Entrant Requirements
Unless stated otherwise in the Competition Announcement, both students and professionals may enter the Competition.
Employees of the Organizers, their subsidiaries, independent reseller partners, or any company involved in the Competition or any such party's subsidiary or associated companies, agents or any such person's family members or households, are not eligible to enter the Competition. The Organizers reserve the right to verify the eligibility of all Entrants.
The Organizers assume by your use of the Competition website and by entering the Competition that you either have legal capacity to enter the Competition and agree to the Competition Rules (i.e., that you are of sufficient age and mental capacity, and are legally entitled to participate in the Competition), or that your parents have consented to your entry of the Competition according to the Competition Rules. Void where prohibited by law.
Each Entrant warrants that his/her submitted files do not infringe upon or violate rights of any third party, and that he/she is authorized to submit the files.
The Organizers reserve the right to disqualify, without further explanation, any Entrant if it has reasonable grounds to believe the Entrant has manipulated the voting process or breached any of these terms and conditions. Entries may not contain, as determined by the Organizers, any content that is: sexually explicit or suggestive; or unnecessarily violent, offensive, or derogatory of any ethnic, racial, gender, or age group.
All entries must be submitted into one of four categories: Best Computer Rendering, Best Animation, Best 2D Plan, and Best 3D Modeling. All Entrants will also be considered for the Best Overall Design Concept category.
Applicants can only submit one entry.
How to Enter
The Organizers shall not be responsible for any error, omission, interruption, deletion, defect, delay in operation or transmission, communications line failure, lost or quarantined email; lost or quarantined graphics that are of the wrong file format; theft, destruction, alteration of, or unauthorized access to entries; copyright infringement; or entries lost or delayed whether or not arising during operation or transmission as a result of server functions, virus, bugs, or other causes outside their control.
Judging
Judges will select the winners, one for each of the five categories. All winning entries will be announced with a press release no later than September 20, 2013.
The Organizers reserve the right to remove (and therefore disqualify from the Competition) entries on the site that are of the wrong file format, or breach any of the Competition Rules or the general Terms of Use.
In the event that any of the winning submissions are disqualified from the Competition, the next best submission automatically wins, provided it fully complies with the Competition Rules.
Prizes
The Organizers will contact the submitter of the winning entry in a prize notification email. In case the prize notification is returned as undeliverable, or entrant does not respond within the time specified in the notification, the Organizers, in their sole discretion, may decide whether a replacement winner should be selected. In this event, any further winner will be selected on the same criteria as the original winner and will be subject to the Competition Rules.
Claims for prizes must be made in the manner and within the time specified in the prize notification. Failure to claim a prize within this time or in the manner specified may result in disqualification and selection of an alternate winner.
Prizes are non-transferable, and there is no cash alternative. The organizers reserve the right to substitute prizes of equal or greater value at any time.
Licensing
Entrants agree by the act of submitting entries, that they hereby grant the Organizers a worldwide, non-exclusive, irrevocable, non-expiring, royalty-free license to use, distribute, reproduce, modify, adapt, and publicly display the entry images and or animations for advertising, promotional, and other marketing purposes. The Organizes agree to give credit to the entrant when practical by indicating the name of the Entrant as submitted on the Entry Form. Winners may be requested to take part in promotional activities, and the Organizers reserve the right to use the names of winners in any publicity.
Liability
In no event shall the Organizers be liable for any direct, indirect, incidental, special or consequential damages, or damages whatsoever resulting from loss of profits, revenue, data, or use, incurred by you or any third party, whether in action of contract, negligence or tort, arising from the Entrant entering the Competition or as a result of accepting any prize.
The Entrant agrees to indemnify and keep indemnified the Organizers its subsidiaries, independent reseller partners, or any company involved in the Competition against all claims, demands, court costs, losses, and damages that the Organizers, their subsidiaries, independent reseller partners, or any company involved in the Competition may incur as a result of a breach by the Submitter of its warranties and obligations. If third parties assert rights that conflict with the granted right to use, the Submitter shall inform the Organizers thereof in writing and without undue delay.
As a condition of entering this Competition, the Entrant hereby waives all rights to claim punitive, incidental and consequential damages, and any other damages, and any and all rights to have damages multiplied or otherwise increased.